The National Collaborative for the Study of University Engagement (NCSUE) strives to be a preeminent innovator within the scholarly movement of engagement in higher education. NCSUE deepens the study of and discussion about two key principles—engaged scholarship and the scholarship of engagement—to inform and advance the national agenda.
Announcement
Survey closes April 14th, 2017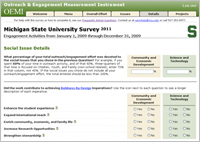 MSU Faculty and Specialists: Make sure your outreach and engaged scholarship is counted. The OEMI is an online MSU survey that collects data about scholarly activities for the direct benefit of external audiences.
News
Features

September 14, 2015
Moving from International Engagement to Global Engagement in a Public University
Deputy Minister, Alberta Health
Official Administrator, Alberta Health Services


Professor, Department of Earth and Atmospheric Sciences
Former Provost and Vice President (Academic)
University of Alberta
Find out more about the upcoming Engaged Scholar Speaker Series presentations
View previous Engaged Scholar presentations, including video of presentations
---